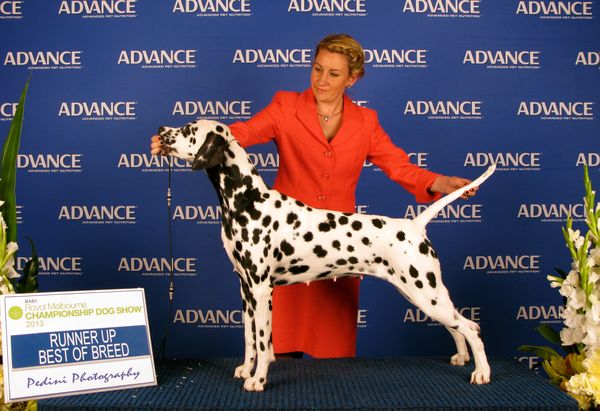 Australian Champion Pampard Phireworks ET
11th of October 2010 
From the first moment Anna hit the show ring, she owned it! She has such an amazing personality and is always wagging her tail. Super typey and moderate as they should be Anna is 23 inches with bi lateral hearing. 
Anna went to live in New South Wales with Ash Oldfield and Blake Wistuba and has exceeded all her expectations in the show ring. She has won many in group and in show awards as well as
RUNNER UP IN SHOW
 and Junior in show at the 2011 Dalmatian Club of Victoria speciality show under breed specialist Rob Lawson.
Anna also won Group second at the prestigious Sunbury Kennel club show in 2012 from the junior class.
Anna was out of the ring for a large part of 2011, 2012 & 2013 due to a nasty white tailed spider bite on her leg yet she has still easily managed her Australian Championship title. We have been so lucky that Anna's amazing temperment has allowed us to treat her nasty bite... she's one lucky girl. We hope that she has now recovered fully. 
Anna has returned to Victoria and is now co-owned and living with Aly Asin, we are looking forward to her returning to the show ring in August. 
Super Spanna returned to the ring winning
BEST IN GROUP 1st
at one of her first shows back after her illness! (26/08/12) 
We are so proud of how our special girl has been going since she returned to the ring over the past couple of months winning multiple
best of breeds & group placements
as well as
Intermediate in show at the DCSA championship show
,
1st in intermediate bitch at Adelaide Royal and 1st Intermediate bitch & reserve CC at Melbourne Royal!
02/10/12
**Anna is a multiple Royal CC winner**
**Specialty CC winner**
**Royal res CC winner** 
**Multiple Specialty class in show winner**
**Multiple Group 1st winner**
Anna wins 1st open bitch, Bitch CC and Runner up Best of Breed at the 2013 Melbourne Royal Show!!


***Anna has now exceeded 500 CC points!***